Engineering courses lose charm,50% seats lie vacant in Telangana
Dearth Of Jobs Trigger Sharp Dip, Say Experts
Hyderabad: Engineering seems to be losing its sheen among students in Telangana with figures recently presented in the Rajya Sabha revealing that barely half of the number of approved seats was filled between 2014 and 2016.
During the same period, the number of institutes had reduced from 404 in 2014 to 377 in 2016, and the approved intake dropped by over 60,000 in Telangana. With over 50 colleges opting out of Jawaharlal Nehru Technological University affiliation process and many closing shop from the academic year 2017-18, the number of approved intake is expected to drop further. But industry observers believe the dip in approved intake will have little impact on the trend of rise in number of vacant seats. "There is an absolute imbalance between number of colleges and number of students opting for technical courses. Only if approved intake is cut by 50%, then there are chances of not having a single vacant seat," said NLN Reddy, placement officer at Chaitanya Bharathi Institute of Technology. To the question posed by minister of state for human resource development Mahendra Nath Pandey if there was any scheme proposed by the government to encourage engineering colleges, the ministry replied, "Since many of these colleges are privately managed, there is no scheme by the government to encourage them. However, to rationalize the expansion of courses in engineering/technological, management etc, AICTE has notified mandatory accreditation regulation for institutes seeking new courses/ expansion of existing courses." This year, some courses in which seats might be reduced which seats might be reduced in Telangana are under the civil, mechanical and information technology heads in engineering, besides pharmacognosy, pharma chemistry, and pharmacology seats. Experts claim the trend could be attributed to a near-stagnated job market for engineers or a glut of career options for students from non-engineering fields. "A majority of students graduating from engineering institutes do not have skill set and industry knowledge. Due to this, many of them shift to non-engineering fields," said K Dayanand, professor at a private college.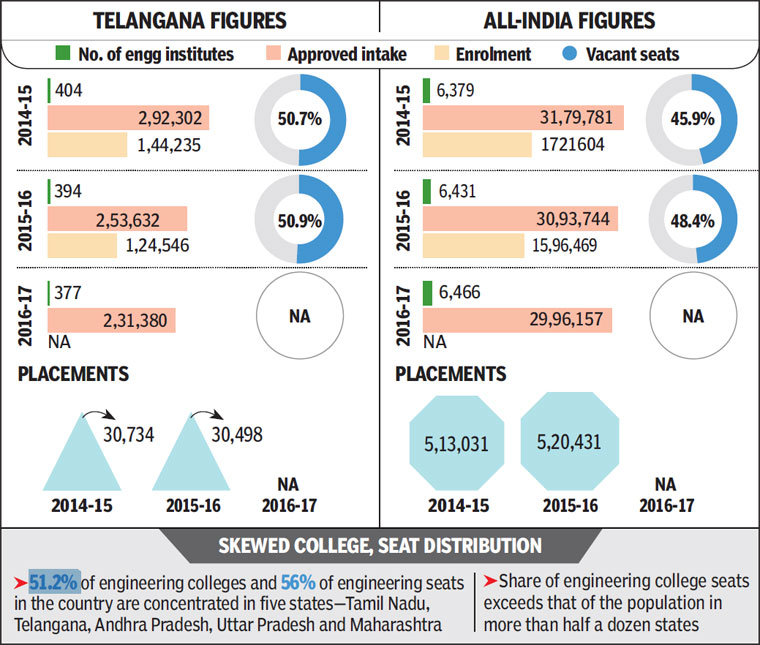 35 city tech institutes unapproved, warns AICTE
Hyderabad: There are 279 unapproved technical institutes in the country of which 35 are in Hyderabad, the All India Council for Technical Education (AICTE) has warned students ahead of the 2017-18 admission year. After Delhi, Hyderabad has the highest number of unapproved institutes, most of them are management institutes. Of the 35 unapproved institutes in Hyderabad, 16 are located in posh localities including Banjara Hills, Jubilee Hills, Hitech City, Ameerpet, Panjagutta and Begumpet. The rest are in Nallakunta, SR Nagar, Dilsukh Nagar and Mehdipatnam. As an annual statutory warning to all state governments, the AICTE has issued a list of institutes conducting technical programmes, including engineering, management, pharmacy, without its approval. Many of these institutes have been in the 'red' list for quite some time, said an AICTE official. The AICTE has issued notices to the unapproved institutes and published public notices in newspapers cautioning students not to take admission there. Though the AICTE has listed these institutes as unapproved, a random check on their websites reveals that most of them are still operational as admissions are open for various courses, including MBA, PG diploma into banking services, BBM and BBA, for the academic year 2017-18. A few colleges are also offering integrated courses such as BBA with MBA in four years. Among the neighbouring states, Karnataka has 33 unapproved technical institutes, Maharashtra 17, Tamil Nadu 11and Kerala two.