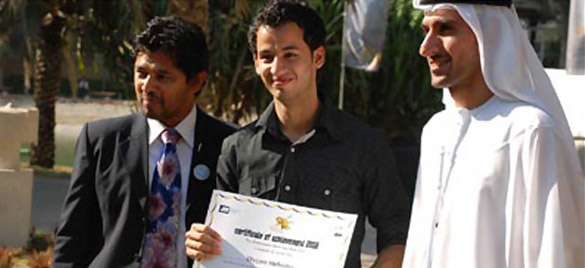 ICAT's PG student Divyam Mehrotra was nominated for the Prestigious IBDA awards which is held annually by Dubai Media City. Divyam reached the last 5 and was invited to Dubai to receive the Certificate of achievement.
Excerpts from his Interview
1. About the competition you participated?
IBDA awards, it is organized by Dubai Media City to encourage all the participants from media background. It includes animation, journalism, radio, tv feature, tv documentary, graphic design, print advertisement and many more...
2. What's your topic? Why did you decide to take this topic for the competition?
My topic was a drive against killing of female foeticide and to promote organ transplantation in a better way. I had named it "Aprajita" which meant a girl who never loses. I took this topic after getting inspired by what my father told about how these foeticides are checked and killed after knowing that it's a girl.
3. Share some lighter moments of your trip to Dubai?
I met close to 35 people from around the world, and got abundant knowledge on how they think, talk and work. I was inspired by many of them.
4. Your future plans after graduating from ICAT?
Life doesn't move itself, it moves where you take it. So I want to see myself at a place where i get some respect, most probably as a Lighting and Rendering artist.
5. Your learning experience and support at ICAT?
It's going on good, and support can be easily seen in my work and it was certainly due to the assistance provided at the college that I could make it upto the best 5 in the competition.
6. What's the note of advice for fellow students who approach such global competitions? Any success formula you want to share with them?
Just believe in yourself and you can do anything you want.