Webinar on Insights about Industry @ICAT, Chennai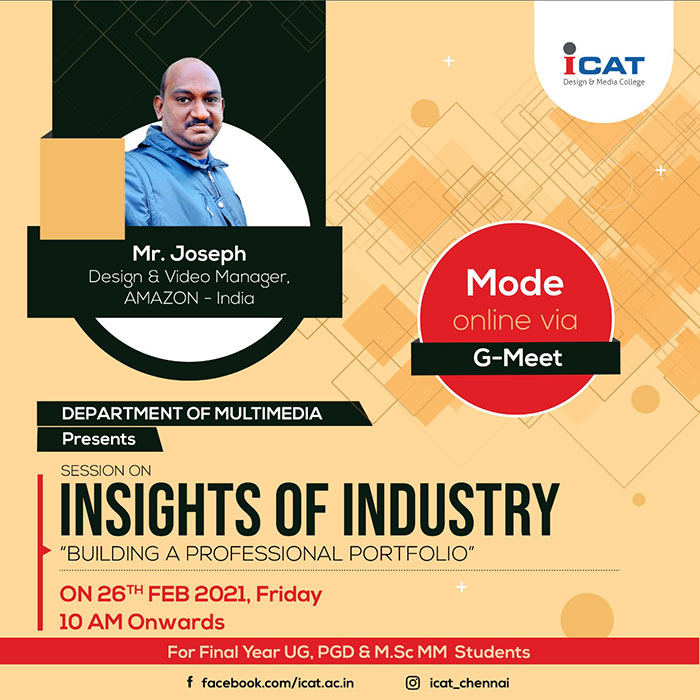 The Department of Multimedia oraganized a webinar session to the final year batch students on insights of industry. The session was presenter by the guest Mr. Joseph, Design & Media Manager, Amazon-India. He started off the session by sharing about jhis career journey and work experience. He talked about his 5 years of work journey with Amazon and how he moved up the corporate ladder from the role of a faculty in various places and into an Manager role at amazon. His objective for the guest lecture was to clear the students doubts regarding the industry in which he is working and also shared tips on how to survive in the industry.
Mr. Joseph shared tips and secrets of the industy with the students who were very curious about how their life would be in the corporate world after they pass out from college. He also shared his insights on what companies look for when they come for recruitment for various industry streams and what skills the students to have in order to crack an interview and how to keep up with the latest technology trends in the industry. His message was to always be ready for any kind of work that comes your way and keep on working hard, the rewards will follow soon. The guest lecture ended with question and answers between the students and the speaker. It was a inspiring input session from the guest shared with students.